Second Season: February
February's reading came together on the fly but turned out great.
Amy Sara Carroll
and Becky Gibson gave readings from either end of the poetic spectrum.
Amy
's poems are usually composed of dense blocks of texts with words and phrases that crash into each other and spin off into wonderful associative hedonism. On the page, they look like prose poems, but often they are just very long-lined -- great kinetic work. Her breathless readings of her poems reflect the work's momentum and zip through line after line. It was a terrific reading; Kathryn said that it made her feel like she was six years old and flying down a huge, snowy hill on one of those disk sleds that are impossible to steer. Indeed. An added bonus of her reading was that she showed some slides of the poem-prints that she also works on. Some of these works look like paintings or woodcuts with lots of text and color. Others of them are photos that feature words somehow.
In the beginning of the night it didn't look like we were going to get to see them, since I took the opportunity provided by our test-run of the slide projector to destroy aforementioned slide projector. Fortunately, our friend Eden O. was there with a friend of hers who was wearing date socks, and amongst us we had enough wiles to get the projector working.
The programming of this reading was actually fraught (in comparison with the others) with pitfalls. In addition to the crippled slide projector, snow forced us to move the reading back a week, and Amy came down sick a day or two before the new date. A few hours before the reading actually, I was on the phone with
Chris Vitiello
, in search for a possible stand-in. Amy had mountains of perserverence though, and I was very happy for it.
Becky Gibson's poems, on the other hand, were generally narrative, annecdotal. She had a series of persona poems in the voice of an 15th century English Abbess, a few in the voice of some mythological characters, and a funny poem about what she imagined the person who stole her computer thought of the poems that were on it. Becky's poems were in the tradition of Bishop, Lowell, Jarrell, & early Adrienne Rich, ripe with descriptive detail.
The reading presented a great little capsule of the range of contemporary poetry.
******
Next
Desert City
reading:
Saturday, October 23rd, 8pm, Internationalist Books:
Aaron McCollough
&
Tony Tost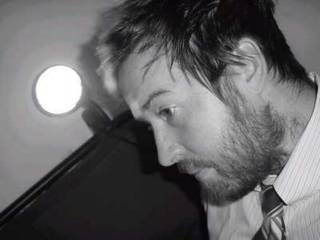 Tony Tost, reading October 23rd

Aaron McCollough, reading October 23rd