Saturday, October 23rd, 8pm: Tost & McCollough
Aaron McCollough, reading October 23rd

Two of the most promising and talented young poets of the day,
Aaron McCollough
&
Tony Tost
, will read in the Desert City on
Saturday, October 23rd, at 8 pm
. The reading will be held at
Internationalist Books
-- 405 E. Franklin Street, Chapel Hill, North Carolina.
Aaron will be joining us from Ann Arbor, Michigan, where he is currently getting a doctorate in English literature. He is the author of
Welkin,
Double Venus
, and the forthcoming
Little Ease
. He is also the editor of the poetry journal
GutCult.
Below are several of his poems.
"Columbia" originally published in
Drunken Boat
The family goose
beside the road – a yard of windows – panes all broken out and frames all laid upon an-
other. Long grass and crazy plantain.
If winter comes.
The rain for hours in the wood and greasily on the wood, which goes at a joint:
rail creeping away from rail along an iron dowel.
The road bears hard
around the rise. The grass succeeds from roadside under foot and the goose's feather
slick to one wide leaf below a rachis and through the cover.
The trees aligned and unaligned – the live-oaks knotted into one – fill with ticks and
resurrection fern.
"The Seventh Poem of Jan Vandermeer" originally published in

Drunken Boat
The gusting snow in streetlight swarm of bees
Tonight to all the decaying mantles
Old wobbly world tearing down you make me hate me
You flinging light around your dark flung fill
Love comes up—my heart's late leach
Come work on me come draw me out to work
For years are coming even absent ones
"Eros, Ethos, Economuos" originally published in
Word/For Word
The air is good in here
we say of the pine-tree
and breaking twigs to move
the soul with what we have
to stick against the fact
of empty sky.
Just look! Cardinals
have nested here since fall
as we have come to rest
and raise our young
in a dangerous
and tangible wilderness.
Secrets inside we can't
quite name. Hopes. Shapely wants.
The silhouette of cones,
which don't resemble cones
in silhouette but trees
upended. Dear, we lease
the stem alive and smooth,
though tearing the bark off --
the wet, green, denuded
careen of this not ours
to love.
And
here
is an essay he wrote on the poet Ronald Johnson which appeared in
Octopus #3.
Coming soon: October's second reader, Carrboro's own
Tony Tost
........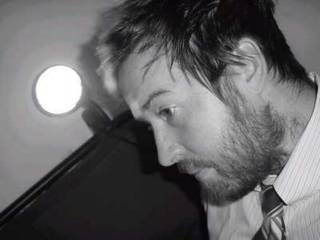 Tony Tost, reading October 23rd